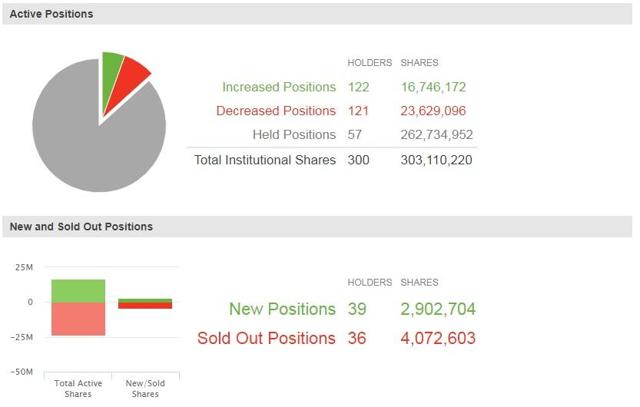 I recently detailed why I believed a major shakeup was needed at BlackBerry (BB), as considerable time has passed with management unwilling to use any of its strong cash position to help out shareholders. With another quarter of institutional shareholder numbers in, the data again shows that major holders are losing faith in the name.
With almost all institutional holders having reported their end of June positions, the information seen below is quite clear. Net positions in BlackBerry have decreased, and don't forget that the company's outstanding share count has actually risen quarter over quarter thanks to share based compensation and no ongoing buyback. Additionally, those selling and exiting positions are doing in larger average quantities than those entering or adding to holdings.
(Source: NASDAQ BB institutional holding page)
However, the data is even more significant when we look at those holding the largest positions in the stock, the firm's biggest supporters. 12 of the top 18 current holders reduced their positions during the second quarter, Fairfax held steady as it usually does, and just five increased their positions. I first started discussing the major holders selling a year ago, and since then the situation has been even more dramatic. Look at the table below which shows how 5 of the top 10 holders at the end of Q1 2017 have each reduced their positions by more than 45%.
The end of Q1 2017 was significant, because it was just before BlackBerry received the major award from Qualcomm (QCOM). These firms have used the rally in shares to continually reduce their positions. Management talked a big game about using its cash for acquisitions and buybacks, but since then has done virtually nothing. Perhaps that's why analyst revenue estimates for the firm continue to come down, with this quarter being the lowest forecast since this management team took over.
(Source: Yahoo! Finance analyst estimates page. *Q2 current estimate)
The street thinks that the current fiscal Q2 period that ends in a couple of weeks will mark a revenue low, but that can't be guaranteed at this point. There have been multiple times over the past couple of years where investors and analysts have thought revenues had reached a bottom, yet they continue to go lower and lower. Meanwhile, cash is just sitting on the balance sheet, and it's not like its earning a ton of interest.
BlackBerry shares sit here today down 10.3% so far in 2018, and that's despite the NASDAQ being up more than 12% over that time. You would think management would take note of that fact and do something, but investors have been waiting quarter after quarter only to be further disappointed. Major holders are certainly voicing their opinions, continuing to sell the stock in decent quantities. If that's not a wakeup call, I don't know what is.
Disclosure: I/we have no positions in any stocks mentioned, and no plans to initiate any positions within the next 72 hours.
I wrote this article myself, and it expresses my own opinions. I am not receiving compensation for it (other than from Seeking Alpha). I have no business relationship with any company whose stock is mentioned in this article.
Additional disclosure: Investors are always reminded that before making any investment, you should do your own proper due diligence on any name directly or indirectly mentioned in this article. Investors should also consider seeking advice from a broker or financial adviser before making any investment decisions. Any material in this article should be considered general information, and not relied on as a formal investment recommendation.