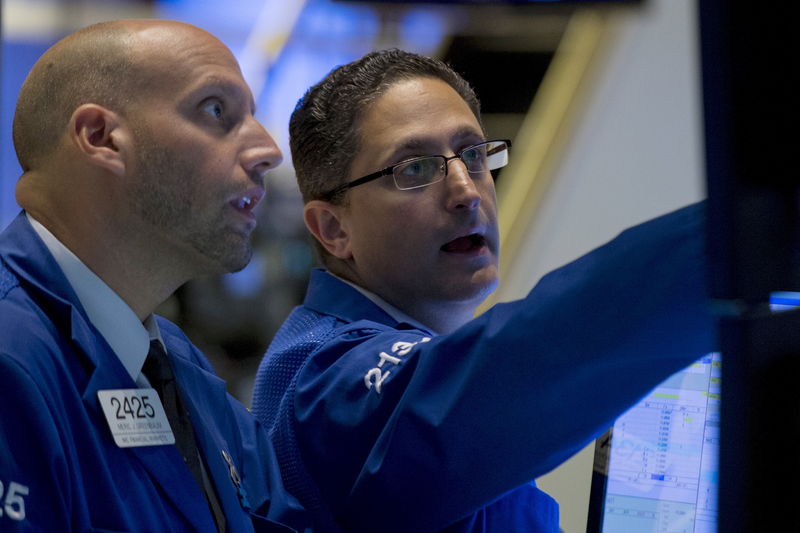 Investing.com – Stocks finished at their highest levels in about two weeks as President Donald Trump touted a "substantial phase one deal" that resolves some of the trade disputes between the United States and China.
The trade deal includes scrapping imposition of tariffs on Chinese imports due next week and a Chinese pledge to buy more farm products.
The rally was very broad and saw the climb more than 517 points before a strong wave of profit-taking set in and cut the gain by 38% to about 320 points. Apple (NASDAQ:) hit a new intraday high of $237.63, accompanied by a host of big stocks.
The finished up 1.09% but failed for a 16th day to close above 3,000. The rose 1.21%.
The climbed about 1.34%, or 106 points, closing above 8,000 for the first time since Sept. 26.
The , dominated by big tech stocks, added 1.34% or nearly 104 points, with Apple, up 2.7%, adding 23 points to the gain by itself.
In addition, Apple, plus Facebook Inc (NASDAQ:), Amazon.com (NASDAQ:), Comcast (NASDAQ:), Intel (NASDAQ:) and Microsoft (NASDAQ:) contributed a total of 48.6 points to the Nasdaq-100's gain.
The size of the selloff in the last 25 minutes of trading. It could be that some investors (or the computer algorithms that guide their trading) were put off by Trump's use of the phrase Phase 1, suggesting that there's much more to negotiate and much more that's contentious. The biggest would be technology theft.
It could also be the classic idea of "buy the hype and sell the news" came into play. Markets waited all day for an announcement, and there was enough uncertainty left over to set off the selling.
The was led by stocks with overseas exposure that would benefit by a thaw in U.S.-Chinese intensions: Caterpillar (NYSE:), chemical giant Dow Inc (NYSE:), 3M (NYSE:)and Apple (NASDAQ:). Only four Dow stocks were lower, with McDonald's the laggard.
Only six Nasdaq 100 stocks were lower. The leader for the day was Fastenal Company (NASDAQ:), maker of fasteners and vending machines used in industrial settings. The company reported a huge earnings beat. The shares jumped more than 17%, its second-best percentage gain since going public in 1987.
Fastenal, Freeport-McMoran Copper & Gold (NYSE:), fertilizer maker Mosaic (NYSE:) and Wynn Resorts (NASDAQ:) were the top performers. The latter three especially would benefit from the projected U.S.-China trade deal.
The S&P 500 biggest laggards include California utility giant Edison International (NYSE:), gold producer Newmont Goldcorp Corp (NYSE:), market-platform operator MarketAxess Holdings (NASDAQ:) and Church & Dwight Company (NYSE:), whose products include Arm & Hammer baking soda.
Interest rates rose as investors sold bonds to move to riskier assets. The Treasury yield moved up to 1,767% from Thursday's 1.656%.
Oil prices moved more than 2% higher, in part because of the progress of the trade talks, which would be a boon to global growth. Prices also moved up on reports of an attack on an Iranian oil tanker.